All our professionals at North Shore Dental Center maintain the highest levels of accreditation and pursue ongoing education to stay abreast of the latest trends in cosmetic dentistry.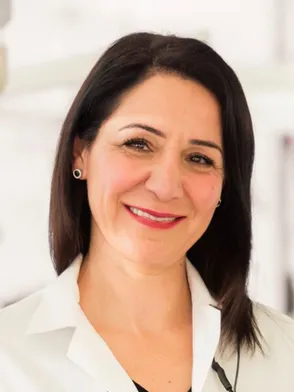 Dr. Hiam Elias
Prosthodontist
Dr. Elias graduated from The University of Montreal School of Dental Medicine in Quebec, Canada. She went on to complete a General Practice Residency at the St. Barnabas Hospital in Bronx, NY She moved on to serve as Chief Resident of General Practice Residency at the Lutheran Medical Center in Brooklyn NY. Through out her career ,Dr. Elias has performed a wide range of extensive surgical, cosmetics , restorative and periodontal treatments on many patients here in the US, as well as Canada. Her passion for excellence has motivated her to pursue an advanced education in prosthodontics and dental implants therapy. Dr. Elias received her prosthodontics education and training at Tufts University School of Dental Medicine in Boston as well as a specialty certificate in prosthodontics. Dr. Elias is a Board-Certified Prosthodontist earning her the Diplomate Status and Fellow at the American College of Prosthodontists and at the Canadian Royal College of Prosthodontists. She then completed a Surgical Dental Implant Fellowship at Tufts Dental School in Boston. Dr. Elias is a diplomate of the American oral implantology/ implant dentistry .She specializes in all facets of complex restorative dentistry, including fixed, removable, and maxillofacial prosthodontics, implant digital planning and dental implants placement utilizing advanced digital technologies and innovative procedures. In addition to her private office, her passion for learning and sharing her dental expertise has led her to an Assistant Professor position at Tufts Dental school, Boston. MA. Dr. Elias also believes in giving back by participating in multiple volunteering activities providing free dental treatments to the underserved communities and supporting the dental students in their journey of becoming future dentists. She is a member of the Massachusetts Dental Society, the American Dental Association, the North Shore Dental Society. In addition, she is a Fellow and a member of the American College of Prosthodontics, Canadian Royal College of Prosthodontics and a member of the American academy of Osseointegrations, the American Board of Oral Implantology. In her spare time, Dr. Elias enjoys outdoor activities, travel, music and arts. She is fluent with three languages: English, French, Arabic and she is receiving additional lessons in Spanish.
---
Lauren
Registered Dental Hygienist
Lauren is a gentle and caring dental hygienist who obtained her Associates in Dental Hygiene at Middlesex Community College in Lowell, Ma in 2016. During her time in the dental hygiene program, she was fortunate to work with a diverse group of patients and was actively involved in the Student American Dental Hygienist Association. She thrives on patient education and seeks to ensure that each patient has a comfortable dental visit that is tailored to their specific needs. Lauren is a compassionate hygienist who likes cultivating long lasting relationships with her patients. It is rewarding for Lauren to ease her patients' concerns and see them look forward to their regular checkups. In her free time she enjoys going to the beach and being active with her beagle Lola.
---